Strange Terrain
Animation frames made of plasticine, bioplastic and organic matter between perspex sheets.
VR headset with looped 360-degree animation.
Group Show:
Conditions Studio, UK
photo by conditions studio
animation stills
This project engages stop motion animation using plasticine, organic materials and bioplastics, translated into a 360-degree virtual reality space to explore ideas of permeable surfaces, landscapes as encoded recordings and scaling relationships.

The work considers geological sites where time exists in many directions, order is upheaved, and the surface of the earth is thin, creating an interface between exterior and interior, moving and being moved. At these sites human imposed hierarchies are harder to maintain creating a space that engages with alterity, allowing us to stay with the strangeness of the normalisation of things, in the current moment.

Surface features shift to subterranean structure, the flatness of the forms serve as intervention to VR 'surfaces'. An ambient sound work underscores the viewer's experience.
Limit
Animation
3' 55"
Sound by Cecile Ross & Kit MacArthur
Initially developed during the
BEYOND residency at Allenheads Contemporary Arts, UK.

Screened at:
Roppongi Art Night, Japan
Another Day Another Lifetime Curated by Jessie Scott at Shared Medium: a moving image program by Composite & Channels, AU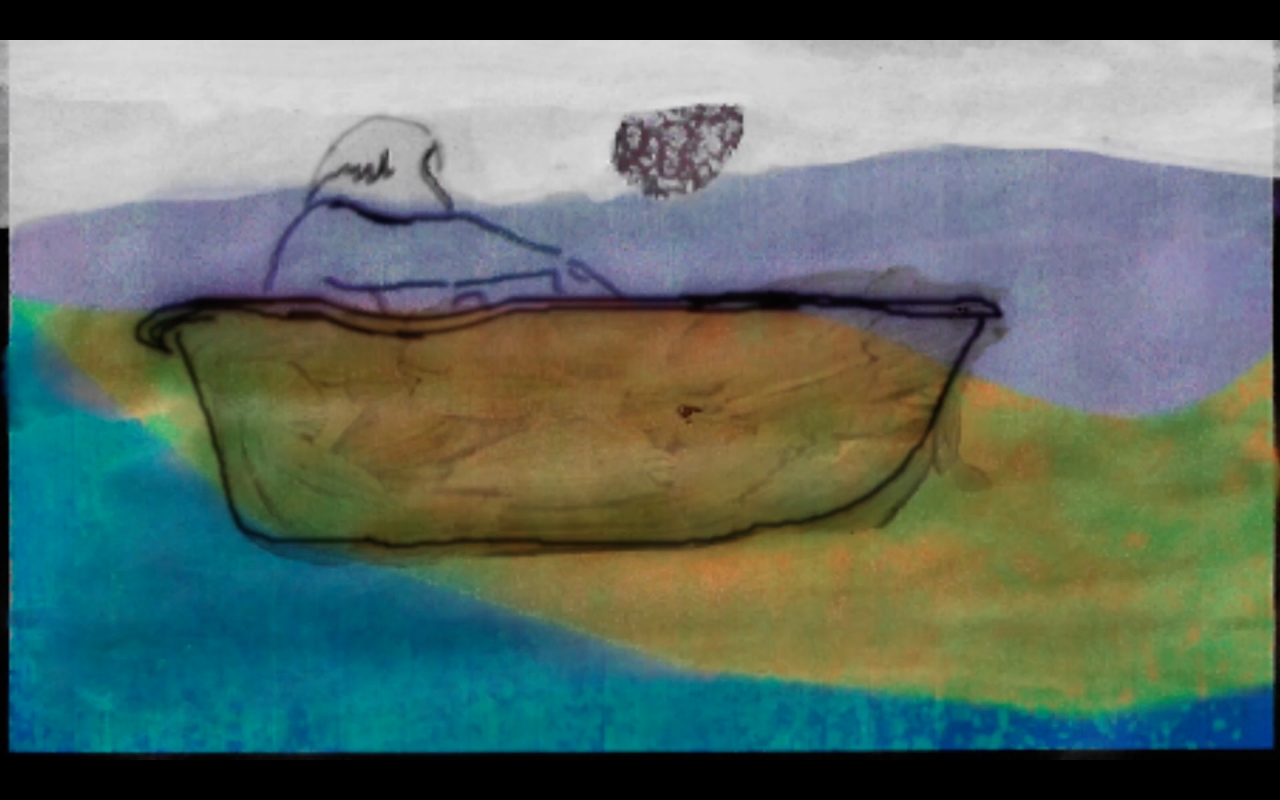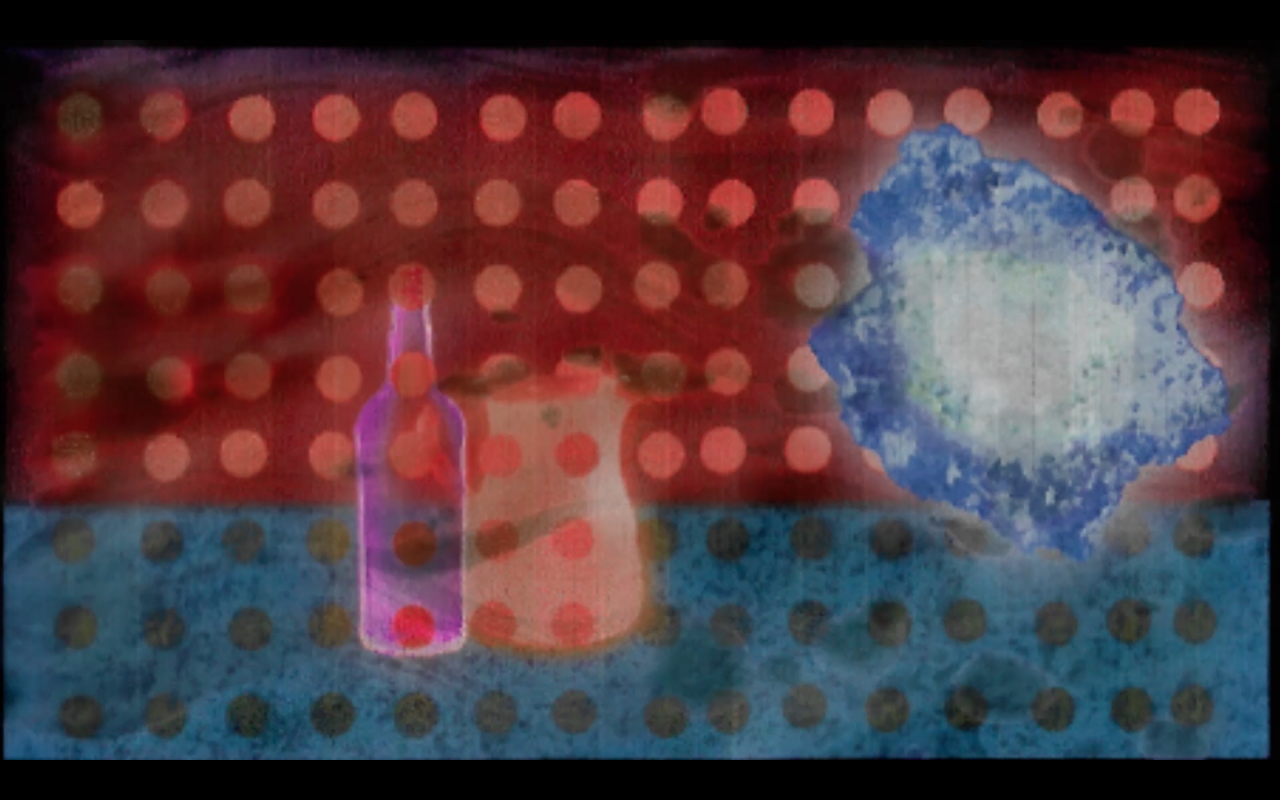 Taking as a starting point the experience of lockdown and the genre of Psychogeography, the work pivots around walking and looking. A hazy storyunfolds through associative linking of dreams, excavation, psychological extraction and interiority.
ISM
HD Animation
3'31''
Sound by Dylan Hogan-Ross
Voice by Alana Bowden

Group Show:
Commissioned by Penrith Regional Gallery & The Lewers Bequest for Gravity and Wonder, AU
Big screen V, Focal Point Gallery, UK

Chiaroscuro , Coventry Cathedral UK. Curated by Martin Green

Channels INTERNATIONAL BIENNIAL OF VIDEO ART, AU

ISM is the result of a pairing with astronomer Graeme Wong over six weeks in the House of Wonder studios at Penrith Regional Gallery. Graeme's area of focus is researching the molecular density of interstellar gas clouds and looking at initial conditions for star formation.

ISM pivots around several ideas: visualizing what is optically invisible to humans; connections and gaps in explanation between artist and scientist and consequently questions about how we communicate the intangible.

Scientists take on dual roles, that of the observer and the communicator. Metaphor used in science communication is a valuable, evocative, cognitive tool. It uses already acquired knowledge to position new information in our frame of reference. As an artist, I often use the 'everyday' as stand in: objects from bags, desks or tables. When talking about the unseen, the intangible, the invisible and unfathomable scale of the universe, when we use metaphor, human centered scale and the tangible to explain these ideas, does this tether and constrain our understanding? Can these objects become embedded in our vision of the universe?

I rendered cross sections of scientist Graeme Wong's desk in the same method he uses to look at sample areas of the gas clouds. The animation is an inquisitive look into Graeme Wong's research, methods of investigation, measurement and ultimately how we perceive and relate to that which we cannot see.
The Arctic is an Eye
HD Video
6' 41''
Sound by Point the Bone
Developed on The Arctic Circle Residency with support from The Freedman Foundation, Ian Potter Cultural Trust and the Australia Council for the Arts. Thank you to ACME in the UK for the support.
Solo Show:
Seventh Gallery, AU 2016

Ferry Gallery, Thailand, 2016
Group Show:
THE FREEDMAN FOUNDATION TRAVELLING SCHOLARSHIP at UNSW Galleries AU 2016
Outside film projects, Sheffield, UK 2017

Ann Arbor Film Festival, USA 2017

North Sydney Art Prize, Coal Loader Center for Sustainability, AU 2017



This project has been assisted by the Australian Government through the Australia Council, its arts funding and advisory body.





A large part of seeing depends on habit and convention.
-John Berger. Ways of Seeing


This part film, part data visualisation is an exploration of the narrative of climate change in the Arctic Circle. It depicts environmental data and responses from climate change opinion polls embedded into the often romanticised Arctic landscape. It shows the malleability of information; what we are told and what we see, in contrast to what we feel. The process of sight served as inspiration for the writing of a parable style text that runs alongside the data.
The data sets are sourced from opinion polls on climate change and levels of worry. This work relfects on care and crtiques how climate is communicated. By anthropomorphising the Arctic is it an effective way to encourage curiosity and consideration? The hand gestures act as a human remnant, an empty gesture in a digital work, hinting at the performative aspects and privilege of caring.



Natural Memory
Cyanotype prints in alumnium frames
Group Show:
THE FREEDMAN FOUNDATION TRAVELLING SCHOLARSHIP at UNSW Galleries, AU 2016
Telegraph Hill festival , UK 2018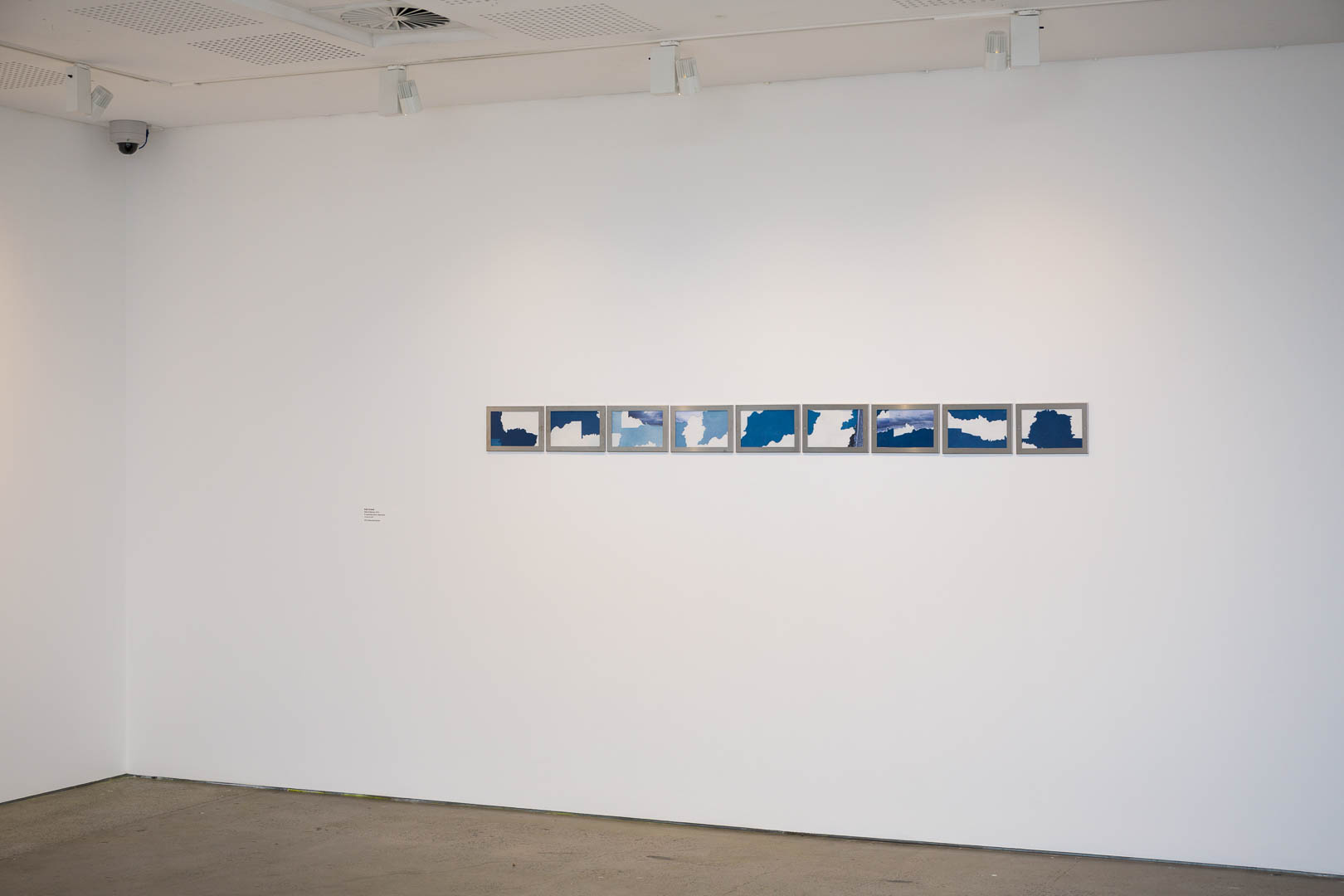 Install images by DOCUMENT PHOTOGRAPHY